UF IFAS Extension offers resources galore to Orange County
Submitted by

hhollinger

on Mon, 12/07/2015 - 16:53
Whether you are looking for ideas for your butterfly garden, need guidance to grow your own produce, wonder how a plant species can sustain the Florida "winter," or think you are over watering your lawn, there is an educational resource available for you.
The University of Florida's Institute of Food and Agricultural Sciences (IFAS) Extension conducts accessible educational programs on horticulture, urban farming, family science, 4-H/youth development, commercial landscaping, among others to Orange County residents. Dating back to 1862 under the nation's land-grant university system established by Present Lincoln, the Morrill Act provides federal public land in each state for agricultural education. This legislation was endowed to the state via the University of Florida, which sponsors local Extension offices in each of Florida's 67 counties. The Orange County Extension Education Center has much to offer to the community. Liz Felter, PhD, Production Horticulture Educator, says "People think we are just about cows and plows. We are not. I recently have started working with people to produce food in greenhouses, which is becoming very serious with the increases we're seeing in the world population. They are estimating that we will have to produce more food in the next 35 years than we've had in the last 10,000 years."
The 14 acre property (located at 6021 S. Conway Road, Orlando, FL 32812) hosts a monthly assortment of workshops and events, in addition to a living research display of various Florida landscapes at the back of the property. Known as Exploration Gardens, the partitioned backyard houses a manicured presentation of Florida-Friendly Landscaping™ principles. Residents are encouraged to use them because they have a lower impact on the natural environment. Interesting enough, the area was once a 16-ton hurricane debris storage site that in turn caused great soil compaction and little drainage. The soil was later aerated 4 feet deep using an auger. The rehabilitated property now has landscapes for the public to enjoy:
-- The formal event garden shows a structured landscape, including their recent research on the effectiveness of Bermuda grass as a more Florida-friendly option, since it requires less mowing and water than other sod varieties.
-- The butterfly garden displays various plants to see which encourages desired flurries of the beautiful insect during the spring season.
-- The trial garden brings in different plant varieties to see how they preform in the Florida climate. Today, the garden has numerous colorful Knock Out Roses and Sun Patiens.
-- The vegetable garden utilizes multiple techniques to grow food on small and larger scale, such as hydroponics, tower gardens, and upcycling old containers. A newly implemented edible fruit tree section features figs, peaches, and nectarines. Rotating and crank-operated composters, as well as rain water harvesting barrels, are on-site for additional educational demonstrations.
-- The succulent garden grows varieties to determine heartier plant species.
-- The bog garden produces water tolerate species for low lying landscapes that tend to be wet during certain times of the year.
-- The greenhouse maintains plant propagation in a controlled environment to be transferred to the outside.
The assortment of monthly workshops teach more than agricultural skills. A recent class taught homeowners how to build a floating hydroponic garden unit using nutrient rich water and Styrofoam. The December calendar features an "In Search of the Perfect Tomato" event, "Florida Green Industries Best Management Practices" workshop, and "Children in the Vegetable Garden" gathering. You can even charge your car in the EV charging station in the parking lot while you participate!
This Extension office, is located closed to UCF, and is an abundant resource that can be utilized for course related purposes or personal improvement. The property itself provides the individual with a relaxing setting to learn. Self-guided tours are encouraged Monday through Friday from 8am-5pm.
For more information, please visit http://SolutionsForYourLife.com.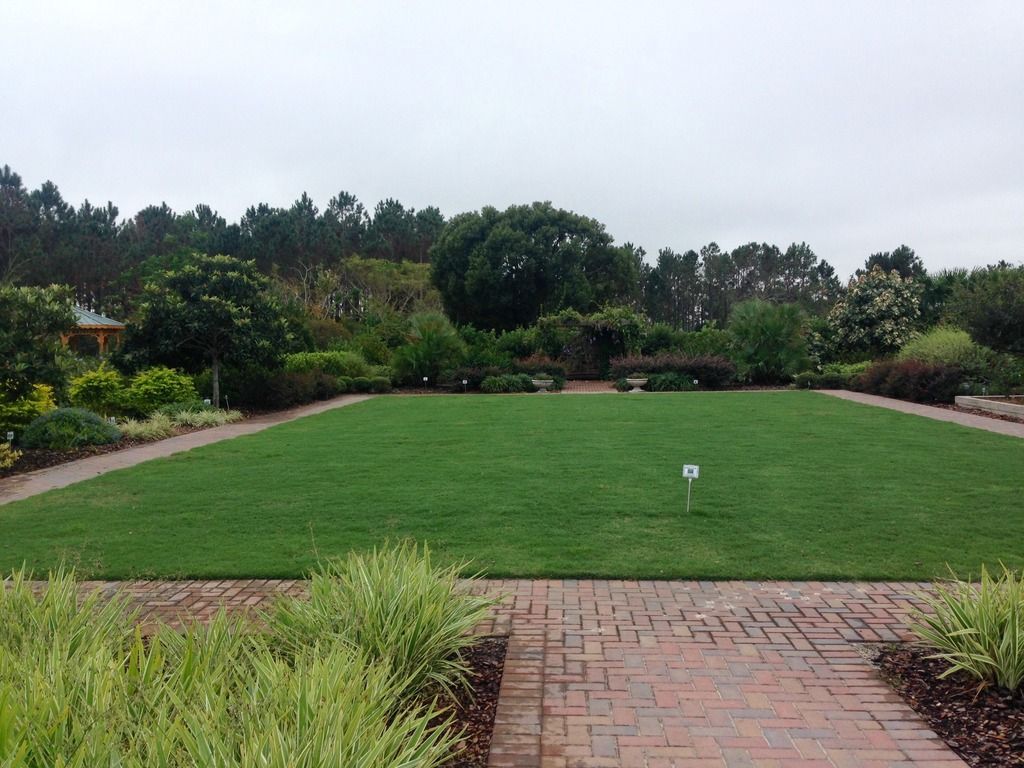 (Above Left) The formal event garden contains labeled plant species. (Right) Pink Knock Out Roses residing in the trial garden.