Knights stand for climate change during 24 Hours of Reality
Submitted by

hhollinger

on Mon, 11/16/2015 - 15:58
"The reality is this: our climate is changing, and it's changing fast. But all around us, there is hope. Every movement has its moment. This is ours." Climate change resides at the forefront of today's recognizable global issues, making it difficult to ignore. If it isn't the mid-November dire heat in Orlando, the flooding in Miami, the record breaking hurricane in Mexico, or the water drought in California serve as reminders of the current situation we are facing. Despite these pressing issues, global leaders have neglected to make climate change a priority in their legislature, making it difficult to formulate a sustainable plan for the future.
The anticipated Paris Climate Talks are rapidly approaching in early December. In response and preparation for the United Nations Conference on Climate Change, UCF is watching...
Through the Climate Reality Project and Live Earth, the University of Central Florida participated in 24 Hours of Reality: The World Is Watching. Reoccurring for its 5th year on November 13th, the live broadcast aims to bring global leaders together to prioritize our reality: climate change. It historically had 20 million viewers in 2013 and 17 million viewers in 2014. It is divided into three-hour segments, totaling a full 24 hours in the eight regions of Calgary, Miami, Rio de Janeiro, Paris, Cape Town, Mumbai, Beijing, Manila, and Sydney.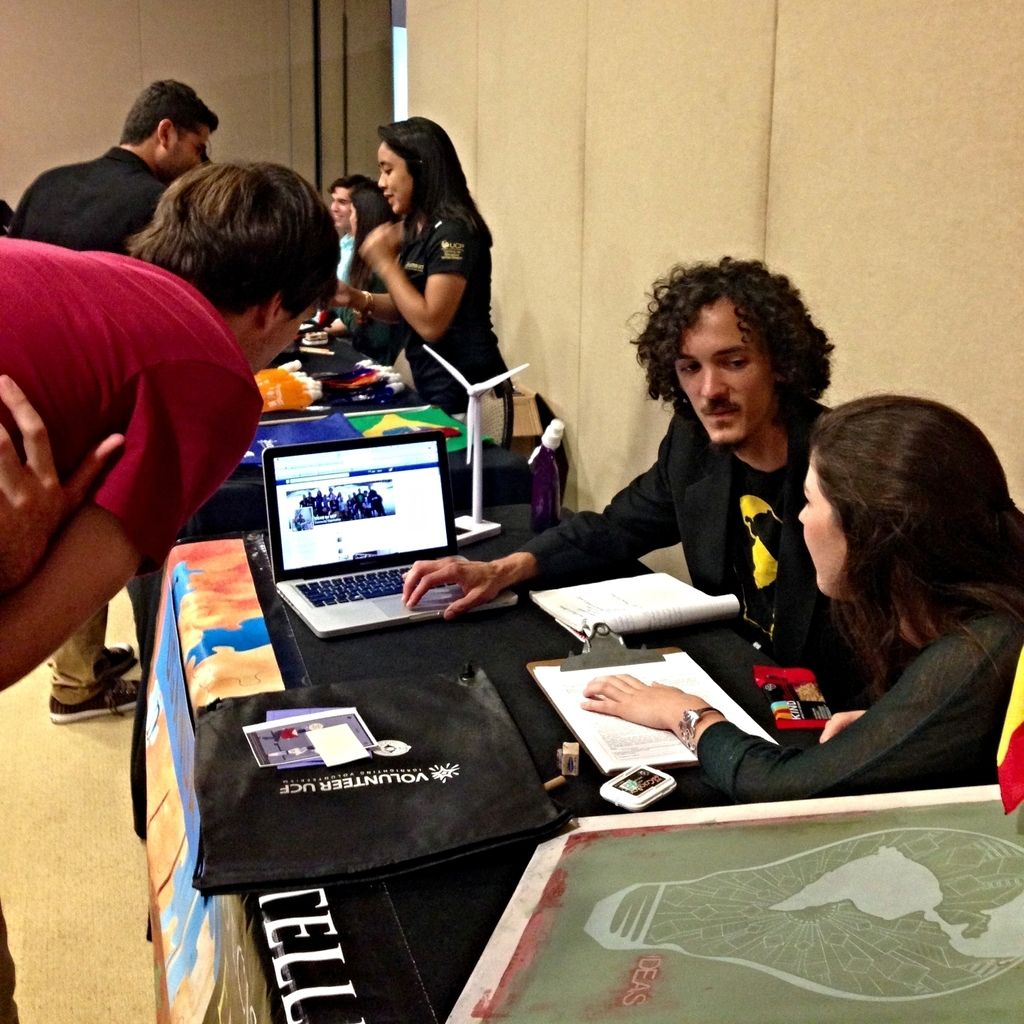 The Climate Reality Project hosted a watch party and multicultural fair on this day to recognize the Miami segment. Located on the second floor of the Student Union, the event's décor resembled that of Disney's Epcot, with each table hosting an educational segment on a country and its struggle with climate change. Of the attending organizations were Volunteer UCF (Brazil), Sustainability Initiatives (Germany), IDEAS for UCF (Uganda), Unifying Theme (China), Knights for Marine and Wildlife Conservation (Australia), Engineers Without Borders (Philippines), and others. Many crucial topics were discussed at each table with an interactive activity, such as the unhealthy smog cover in China, intense periods of weather in Uganda, and advancements in solar and wind energy led in Germany.
The 24 Hours of Reality event participation fulfilled the given opportunity to harvest awareness. Clayton Ferrara, Executive Director of IDEAS for Us, shared motivational words on the persisting hope for sustainability despite happenings that may suggest otherwise. Chris Castro, Sustainability Program Manager with the City of Orlando, educated the group on the need for alternative energy using his own passion for clean energy. Following the speeches, the broadcast and fair were concluded sooner than anticipated, due to the horrific events in Paris where the climate talk was sponsored. Speakers that planned to talk in support included Ian Somerholder (actor), Jim Kim (President of the World Bank), Dr. James Hanson (leading climate scientist), Vanessa Hauc (Telemundo host), Al Gore (former vice president), Jimmy Kimmel (TV host), Mark Ruffalo (actor), Jason Mraz (musician), and Richard Branson (entrepreneur).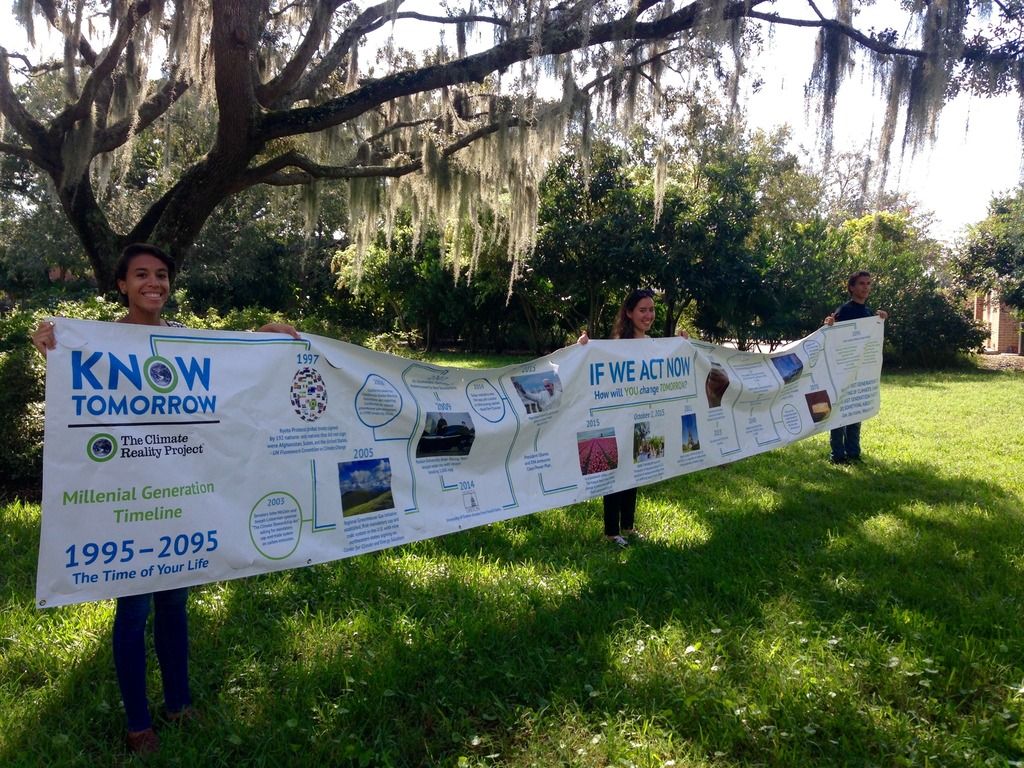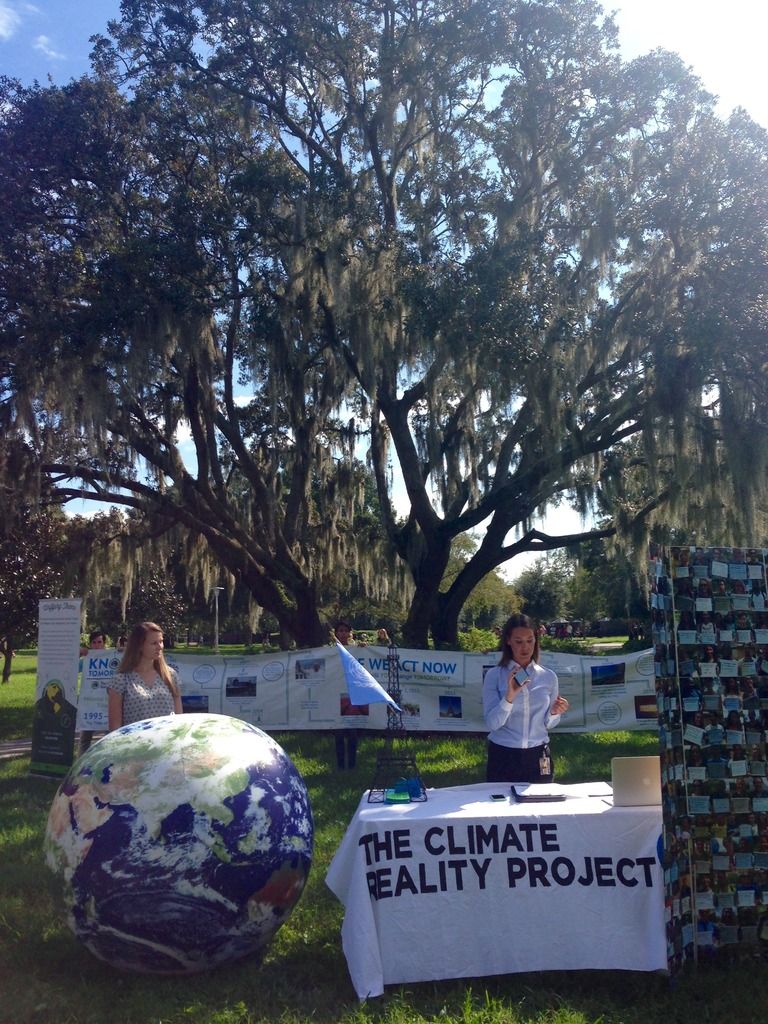 (Left) Climate activists stand under the trees by the Reflecting Pond to attract awareness during the 24 Hours of Reality morning press conference.
(Right) Alexandra Kennedy, Sustainability Initiatives Coordinator, shares the importance in UCF acknowledging climate change.


However, it does not end here. "UCF is America's Partnership University. A challenge as global and complex as climate change requires us to work together. As members of the UCF community, each of us are called upon to do our part to make a difference. Together, we must make the conscious decision to seize this moment in our history and avoid missing a great opportunity," stated Alexandra Kennedy, Sustainability Initiatives' Coordinator. The Climate Reality Project anticipates scheduling a make-up event.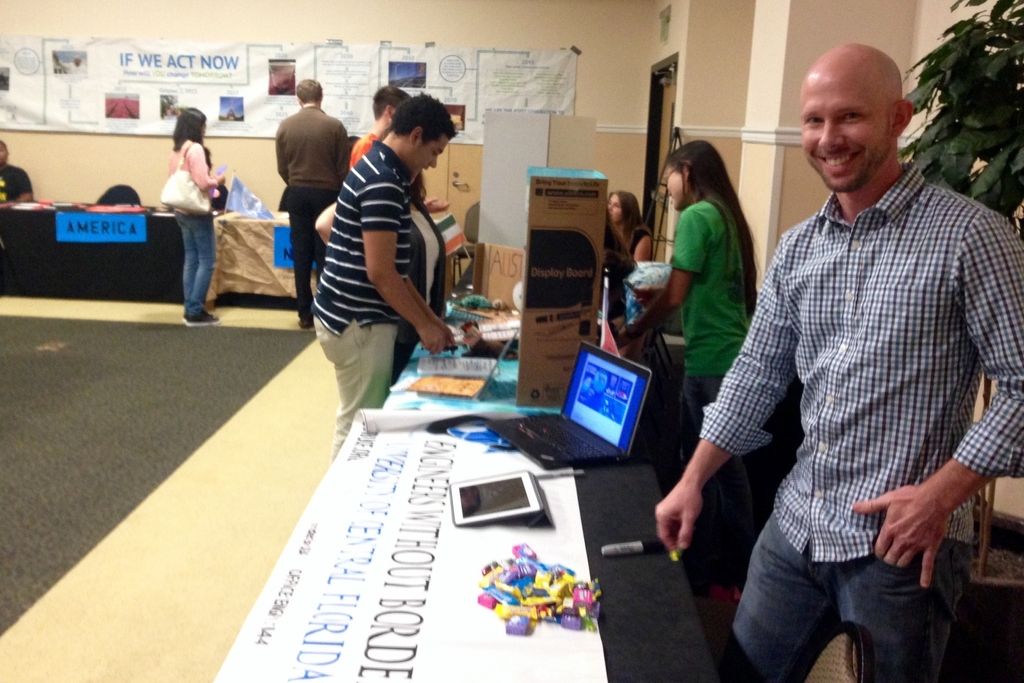 (Left) Ferrara and Castro answer questions from engaged listeners. (Right) Mathew Coalson from EWB awaits his next table guest.